The Next Round in the Nuclear Dispute with Iran
Berlin urges future US administration to change course in relation to Iran, while Teheran favors a "look east" policy.
BERLIN/WASHINGTON/TEHERAN (Own report) - The German government is pushing for a quick return to the nuclear deal with Iran once designated US President Joe Biden takes office. Already months ago, Biden had declared his willingness to do so. German companies are hoping for lucrative business opportunities, which would also help them to weather the Corona crisis. However, obstacles persist in Washington, such as the presumed continued Republican majority in the US Senate and a new wave of sanctions initiated by outgoing President Donald Trump. Thus, supplementary, coercive measures, independent of the nuclear deal, would, in fact, be imposed on Iran's entire oil sector. Biden is raising the demand - supported also by Berlin - that Iran refrain from seeking regional influence and limit its missile program massively. Teheran is unwilling to comply and - given its experience in dealings with the West - prefers a "look east" policy.
The Next Wave of Sanctions
Already months ago, designated US President Joe Biden had announced a change of course in policy toward Iran. If Iran returns to strict compliance with the 2015 nuclear deal, the United States would "rejoin the agreement," Biden declared.[1] He was referring particularly to the fact that Teheran has begun to disregard some of the provisions, since the Trump administration had abandoned the deal. According to the International Atomic Energy Agency (IAEA), Iran has now more than 2,440 kilograms of enriched uranium, whereas only 300 kilograms are permitted. Following his victory, Biden had indicated that he intends to keep his election promise regarding the Iran nuclear deal.[2] However, it is still uncertain to what extent this can be thwarted by the US Senate. There is a good possibility that the Republicans may maintain their Senate majority, following runoff elections in Georgia. The outgoing President is also raising the hurdles by imposing supplementary sanctions practically on the entire oil sector, including the Ministry of Petroleum and the National Iranian Oil Company. These sanctions are being justified with a claim that those affected by them are supporters of the Islamic Revolutionary Guard Corps. These sanctions may be more difficult than those connected with the nuclear deal to have lifted by the future US administration.[3]
Berlin's Illusions
Berlin and the EU are hoping for the future Biden administration's return to the nuclear deal, which would again provide German companies opportunities for lucrative business deals.[4] The German government is also supporting President-elect Biden's intention to push Iran - beyond the nuclear deal - to refrain from seeking regional influence and particularly for restraining its missile program. Specialists estimate that the country has the potential of becoming the leading power at the Persian Gulf and thus set limits to western influence in the region. Berlin and the EU, but also the "E3" (Germany, France, Great Britain) whose foreign ministers met on Monday, let it be known that they could serve as mediators between the USA and Iran to facilitate negotiations, if these cannot be organized directly.[5] Shortly following the elections, German Foreign Minister Heiko Maas declared that the focus should not be "restricted to Teheran's nuclear capacity," but should also include "Iran's regional role," as well as its missile program. Experts, on the other hand, warn that demands, such as these, could possibly stem from an overestimation of their own power. The complete revival of the nuclear deal must be priority, former EU foreign affairs commissioner Federica Mogherini recently recommended. Everything else would be "seriously illusionary."[6]
Reparations for Damages due to Sanctions
Teheran has, in fact, positively responded to Biden's plans. An agreement "is quite feasible and there is no need for preconditions or negotiations," the Iranian Foreign Minister Mohammad Javad Zarif is quoted saying. As soon as Washington complies again with the nuclear deal - including the lifting of sanctions - Iran will follow suit.[7] Talks on a more far reaching accord are undesirable before the re-enactment of the nuclear deal. According to reports, this has already been formally confirmed by Iranian diplomats. Thus, Teheran is uninterested in a temporary solution.[8] From Iran's point of view, negotiating its missile program is out of the question. Due to the long-lasting arms embargo, the country has been weakened militarily and needs missiles as a deterrent vis à vis the Gulf monarchies, who have been equipped with state-of-the-art bomber fleets particularly from the USA. Teheran, for its part, is demanding billions in reparations for the damage Washington inflicted on that country with its illegal extraterritorial sanctions. Realistically, Teheran's foreign policy-makers do not expect the USA to pay reparations. However, On this issue, they are unwilling to grant prerequisite concessions.[9]
Failed Confidence-Building
Iran's rejection of the demand to grant new concessions to induce the US to return to the deal is based on the lessons Teheran's elites have learned from the consequences of the country's foreign policy experience. In its dispute with the West over the nuclear issue, Iran's government under President Mahmoud Ahmadinejad (2005 - 2013) had sought, for the first time, to rely on close cooperation with non-western states under the motto "look east." But this did not help in avoiding UN sanctions. Therefore, Ahmadinejad's successor Hassan Rohini pursued a two-track policy, i.e. continuing cooperation with the non-western world, while seeking to engage a détente policy with the West. According to a recent study published by the German Institute for International and Security Affairs (SWP) in Berlin, Rohini considered the nuclear agreement "to be a confidence-building measure," which, in the long term, was also intended "to pave the way for a prudent policy of opening up to the U.S."[10] It proved to be a wholesale failure, when the Trump administration abandoned the deal in 2018, and was seeking to provoke Iran's total economic collapse with its brutal extra-territorial sanctions. In February 2018, the Leader of the Islamic Revolution Ali Khamenei again committed his country to a "look east" policy.
"Political Framework Independent of the West"
This policy is no longer limited to safeguarding a minimum of essential foreign trade and political backing through the cooperation with Russia, India and China. For this purpose last summer, Teheran had concluded, for example, a 25-year accord with Beijing, whose significance had, at times, been exaggerated by the West. It is, however, geared toward the continuation of a prosperous cooperation over the next 25 years.[11] According to SWP, Teheran is also focusing on "long-term political framework objectives." It "not only rejects a unipolar global order under US domination, but it is also "actively striving to change the current international system" that for many years has been constricting Iran. Today, Teheran's elites see "the greatest potential for the formation of new and structural orders independent of the West," SWP notes, "in the countries of the Asian and Eurasian region."[12] They too hope that their countries can attain "a favorable position in an international structure" of a "multipolar system, wherein Asian actors play a regulating role."
[1] Joe Biden: There's a smarter way to be tough on Iran. edition.cnn.com 13.09.2020.
[2] Steven Erlanger: Biden Wants to Rejoin Iran Nuclear Deal, but It Won't Be Easy. nytimes.com 17.11.2020.
[3] Pranshu Verma, Farnaz Fassihi: U.S. Imposes Sanctions on Iran's Oil Sector. nytimes.com 26.10.2020.
[4] See also Competing for Business with Iran and Geschäft und Repression.
[5] Deutschland fordert Iran erneut zum Einhalten des Atomabkommens auf. rnd.de 23.11.2020.
[6] Patrick Wintour: UK, France and Germany discuss working with Joe Biden on Iran nuclear deal. theguardian.com 23.11.2020.
[7] Irans Außenminister Sarif rechnet mit Einigung im Atomstreit - und lobt Biden. rnd.de 18.11.2020.
[8], [9] Steven Erlanger: Biden Wants to Rejoin Iran Nuclear Deal, but It Won't Be Easy. nytimes.com 17.11.2020.
[10] Azadeh Zamirirad: Irans "Blick nach Osten". Asien, Eurasien und die ordnungspolitische Vision der Islamischen Republik. SWP-Studie 25. Berlin, November 2020.
[11] Sheng Zhang: The 25-Year Agreement between China and Iran: A Continuation of Previous Policy. washingtoninstitute.org 03.08.2020.
[12] Azadeh Zamirirad: Irans "Blick nach Osten". Asien, Eurasien und die ordnungspolitische Vision der Islamischen Republik. SWP-Studie 25. Berlin, November 2020.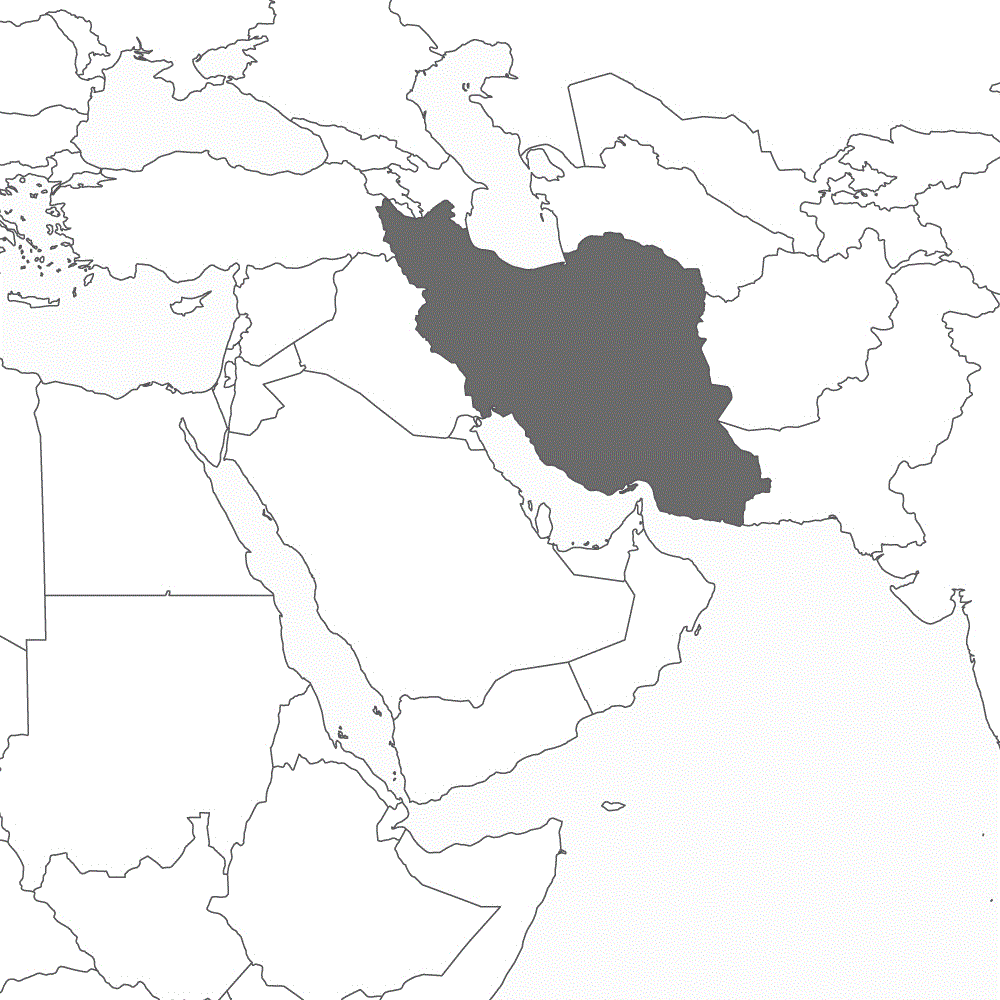 ---