No Mercy from the West
UN Secretary General sharply criticizes sanctions on Iran because they hamper the fight against the Covid-19 pandemic. Berlin remains silent.
BERLIN/WASHINGTON/TEHRAN (Own report) - US sanctions on Iran, to which German enterprises are obliged to conform, are in fact seriously hampering the fight against the Covid-19 pandemic, according to UN General Secretary António Guterres, who is campaigning for an immediate suspension of the sanctions. The boycott measures had already caused serious damage to Iran's health system prior to the outbreak of the pandemic, depriving, for example, cancer patients of desperately needed medicine. Now they are blocking deliveries of Covid-19 test kits that are inexpensively produced in Germany. Iran is one of the countries hardest hit by the pandemic. The numbers given in yesterday's official statistics - around 27,000 infected, a little more than 2,000 deaths - are considered far too low. Iranian experts fear an increase in deaths into the 6 or 7-digits. Washington, with absolutely no intention of at least suspending the sanctions to enable the fight against the pandemic, imposed even new punitive measures a few days ago. Berlin remains inactive and silent.
"Time for Solidarity"
The United Nations is urgently appealing for the sanctions on countries such as Iran, Venezuela or Cuba, to be lifted, so that the global fight against the Covid-19 pandemic will not be additionally hampered. Sanctions should be waived "to ensure access to food, essential health supplies, and COVID-19 medical support," UN General Secretary António Guterres wrote in a letter to the G20 countries. "This is the time for solidarity not exclusion," declared Guterres, who explicitly pointed out "that we are only as strong as the weakest health system in our interconnected world."[1] UN High Commissioner for Human Rights Michelle Bachelet, demanded that "both for global public health reasons, and to support the rights and lives of millions of people" in these countries, "sectoral sanctions should be eased or suspended." "In a context of global pandemic," whoever "impedes medical efforts in one country" heightens "the risk for all of us."[2]
"Together against the Pandemic"
The UN's call for ending or, at least, alleviating the sanctions, was made after several countries, and numerous organizations, also from the West, had spoken out in favor of lifting the sanctions. China and Russia demand that at least the boycott measures against Iran be lifted - not least of all, because that country is one of the worst affected by the Covid-19 pandemic. Imran Khan, Prime Minister of Iran's eastern neighbor Pakistan, joined the plea, noting the people "are facing untold suffering" in Iran: "Humanity must unite to fight this pandemic."[3] According to reports, even the British government is calling on Washington to lift sanctions on Iran.[4] Last Friday, more than 25 NGOs, including Oxfam America and the International Crisis Group published an appeal calling for ending the sanctions. They have harmed the public health sector in Iran by slowing or entirely blocking the sale of medicine, respirators, and hygienic supplies needed to mitigate the epidemic."[5]
Withholding Cancer Medicine
Due to the sanctions, Iran's health system was heavily damaged already prior to the Covid-19 pandemic outbreak. Research by the Human Rights Watch (HRW) organization confirms that the sanctions had caused a shortage of important medication that could not be imported and no longer produced - due to now unavailable raw materials. Already last fall, epileptics and cancer patients could not be adequately treated. The situation may well worsen, warns HRW last October, threatening "the health of millions of Iranians."[6] On several occasions, US officials have indicated that the pain US sanctions are causing for ordinary Iranians is intentional, part of a strategy to compel Iranian citizens to rise up in revolt against their government, noted the HRW. The consequences for these individuals can be "catastrophic."
Sanctions Expanded
Following the outbreak of the Covid-19 pandemic, the Trump administration further intensified its anti-Iran measures. Just last week, a number of companies accused of trade in Iran's petrochemicals, were added to the sanctions list. Blacklisted were five companies based in the United Arab Emirates, three in mainland China, three in Hong Kong and one in South Africa.[7] Washington claims that humanitarian deliveries are exempt from sanctions, however, even medical products may hardly be sold to Iran, because no financial institution is willing to take the risk of US reprisals for having financed the transactions. At the end of January, Washington had indirectly admitted this fact, when it announced that, a new financial channel for humanitarian goods has been created with Switzerland to benefit medical patients in Iran.[8] However, not even the most urgently needed medicines are arriving in that country through that channel. In addition, Trump administration-affiliated pressure groups are waging a public campaign against companies supplying Iran with humanitarian goods. Because only minimum profits can currently be achieved from business with Iran, the incentive for these companies to cease their deliveries is high.[9]
Humanitarian Pose
Officially, the German government is opposed to the sanctions; however, it does not even use the Covid-19 pandemic as an occasion for seriously initiating practical steps against them. March 2, Berlin, Paris, and London jointly launched a delivery of equipment for laboratory tests, hazmat suits, gloves and other furnishings - "as an express delivery by plane," as the German foreign ministry proudly proclaimed in a press statement.[10] At the same time, these "E3" governments (Germany, France, Great Britain) had promised "to provide more than €5 million very soon for combating the Covid-19 epidemic in Iran" - via the WHO, to circumvent the sanctions. Given the dramatic situation in Iran, that would have merely been a drop in the bucket. Significant measures capable of helping Iran to fight this pandemic have not been taken. For example, a company in Berlin, which manufactures inexpensive Covid-19 test kits, (€2.50 a piece) cannot deliver to Iran, because it needs a German government permit, which "apparently proves more difficult to obtain than one would have imagined" - as the delay was considerately explained.[11]
Away from the West
Berlin - as usual - strikes a humanitarian pose while doing very little. China is in action. Already at the end of February, a delegation of the Chinese Red Cross arrived in Tehran to help fight the Covid-19 pandemic. Among other things, the delegation brought 50,000 test kits and a dozen respirators.[12] Just a few days prior to their arrival, the People's Republic of China had donated 250,000 masks.[13] Official Iranian sources reported that constituent parts of a drug to fight Covid-19 were delivered from China.[14] The New York Times predicts that Iran is more likely to continue to turn toward China, shifting the balance of powers in the Middle East "away from the West."[15]
[1], [2] Colum Lynch: U.N. Calls for Rolling Back Sanctions to Battle Pandemic. foreignpolicy.com 24.03.2020.
[3] Golnaz Esfandiari: Calls Grow For U.S. To Lift Iran Sanctions Due To Coronavirus Crisis. rferl.org 24.03.2020.
[4] Patrick Wintour: UK presses US to ease Iran sanctions to help fight coronavirus. theguardian.com 18.05.2020.
[5] Golnaz Esfandiari: Calls Grow For U.S. To Lift Iran Sanctions Due To Coronavirus Crisis. rferl.org 24.03.2020.
[6] Human Rights Watch: "Maximum Pressure". US Economic Sanctions Harm Iranians' Right to Health. New York, October 2019.
[7] Arshad Mohammed, Daphne Psaledakis, Parisa Hafezi: U.S. to Iran: Coronavirus won't save you from sanctions. reuters.com 20.03.2020.
[8] Deb Riechmann: US hits Iran with new sanctions, keeps some waivers in place. apnews.com 30.01.2020.
[9] Eli Clifton: Amid Coronavirus Outbreak, Trump-Aligned Pressure Group Pushes to Stop Medicine Sales to Iran. theintercept.com 05.03.2020.
[10] Hilfe für den Kampf gegen COVID-19 in Iran. auswaertiges-amt.de 02.03.2020.
[11] Kevin P. Hoffmann: Berliner Firma produziert Coronavirus-Tests für die ganze Welt. tagesspiegel.de 06.03.2020. Frank Hofmann: Corona-Tests: Maschinen auf Hochtouren. dw.com 20.03.2020.
[12] Sune Engel Rasmussen, Aresu Eqbali: China Sends Team to Aid Iranian Response to Surging Coronaviru. wsj.com 29.02.2020.
[13] China's envoy contributes 250,000 masks to Iran over COVID-19 outbreak. xinhuanet.com 25.02.2020.
[14] Health Official Says Iran Has Imported Chinese Coronavirus Medication. en.radiofarda.com 21.03.2020.
[15] Narges Bajoghli, Mahsa Rouhi: How Trump Sanctions on Iran Will Worsen the Pandemic. nytimes.com 24.03.2020.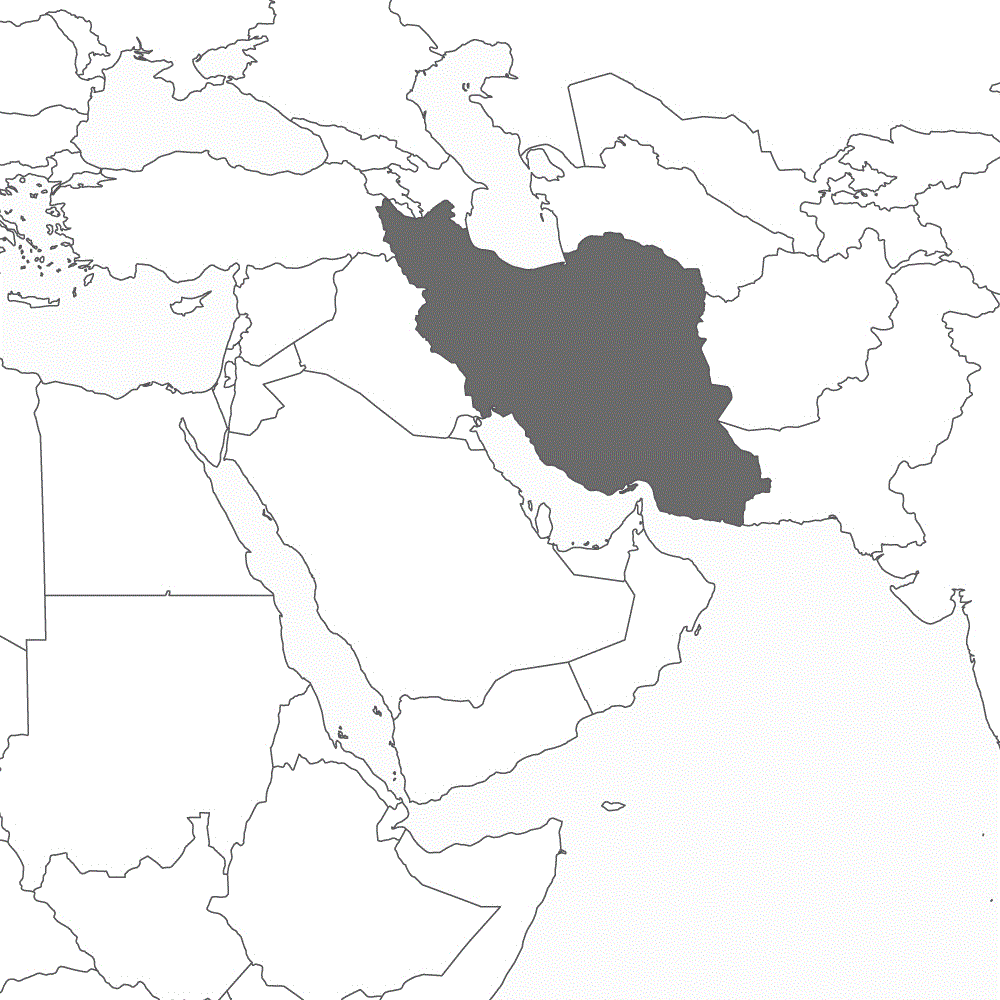 ---