Rebuilding Syria
BERLIN/DAMASCUS (Own report) - German companies are seeking to favorably position themselves for participation in Syria's post-war reconstruction. Following the Damascus International Fair, which closed yesterday, the director of the Middle East Department of the German Chambers of Industry and Commerce (DIHK) noted, the development in the country is being "closely observed" and "a series of cautious initial inquiries" are already being registered. The Damascus International Fair is one of the most traditional fairs in the region and was held again, for the first time, since the beginning of the war. Particularly companies from Russia, Iran and China have good prospects for participating in Syria's rebuilding. Since 2012, the German government has been eager to provide emergency aid and reconstruction. However, this aid was restricted to regions under insurgent control. Idlib Province, today controlled by the al-Qaeda offshoot al-Nusra (renamed Tahrir al-Sham) is one of those regions benefiting.
"Potential for German Business"
German companies are seeking to favorably position themselves for participation in rebuilding war-torn Syria. Numerous German firms, which had already done business in the country before the war, are "closely" observing the development, according to Philipp Andree, Director of the "North Africa and Middle East" Department at the German Chambers of Industry and Commerce (DIHK).[1] They have already registered "a series of cautious initial inquiries," he notes, but emphasized the need for "a stable legal framework and security situation." If these conditions are met, Syria would offer a "potential for German business." This applies particularly to the infrastructure, "roads, bridges, pipelines and energy supply." They are "essential for reconstruction" and German companies can provide the necessary "know-how." It should also be noted that, since the 1970s, numerous Syrian firms had equipped themselves with "German machines." "In the meantime, many plants have been completely destroyed," Andree explains, and German machine and plant manufacturers could now furnish replacements.
Multi-Billion Dollar Business
The DIHK made this announcement following the closing of the Damascus International Fair, one of the most traditional fairs in the Middle East, which has been held again, for the first time since the beginning of the war in 2011. According to official data, business representatives from 43 countries participated in this ten-day event - with a strong presence of Russian, Iranian, and Chinese companies. The reconstruction, which will take years, promises multi-billion dollar deals. The World Bank estimates the cost to rebuild Syria at $200 billion. Syrian and Lebanese ports at the Mediterranean are already preparing for an increase in merchandise turnover. A cargo capacity of up to 30 million tons annually could become necessary in the near future to eliminate the massive destruction, an expert predicts.[2] The Syrian ports Tartous and Latakia are said to have a combined capacity of up to 15 million tons, and Tripoli port can also hope for a significant increase.
Priorities
Particularly, Russia, Iran and China - the three countries that had supported the Syrian government during the war - have good prospects of playing a prominent role in Syria's reconstruction. In July, Beijing announced it would invest US $2 billion in a new Syrian industrial park. According to reports, Syria has granted Iran a license to operate a mobile phone network, and Iranian businessmen are investing in land and residential properties.[3] However, Russia could play the leading role. Back in April 2016, Russian-Syrian trade was around €850 million.[4] In November 2016, Syrian Foreign Minister, Walid Muallem offered Russian firms "priority" in rebuilding Syria. Moscow and Damascus also agreed on a free trade zone for agricultural products. In December - according to unconfirmed reports - Syria's Minister for Oil and Gas Ali Ghanem signed 25 percent of Syria's total oil and gas production over to Russia's Stroitransgaz. Moscow is also having Aleppo's Umayyad Mosque and the Khalid ibn al-Walid Mosque in Homs rebuilt. Russia's Autonomous Republic Chechnya, where - like in Syria - Sunni Islam is predominant, will finance both projects.
Emergency Aid to Regime Change
The prospects for German companies are less promising. Since mid 2011, Berlin has committed itself to regime change in Syria, providing humanitarian aid and initial reconstruction support, however only to areas under insurgent control. Already in May 2012, Germany participated in the founding of a multinational "Working Group on Economic Recovery and Development of the Friends of the Syrian People," which under German and Emirati leadership had organized the supply of emergency aid to insurgent-controlled regions. As was reported in May 2013, for example, the German Association for International Cooperation (GIZ) was providing assistance for the "reconstruction of hospitals, schools and water supply," from Gaziantep, Turkey, to rebel-controlled regions of northern Syria. According to Germany's Foreign Minister at the time, Guido Westerwelle, this had been necessary, because the insurgents can "only win the respect of the population," if they "tangibly" help "tackle the liberated zones' most serious problems."[5] Simultaneously, the EU and USA-imposed economic sanctions led to serious shortages in medicine, food and fuel for the populations in the government-controlled areas of Syria. In the Summer of 2016, a study commissioned by the United Nations confirmed that sanctions are mainly punishing ordinary Syrians.[6]
Terrorist Associations
There is much evidence that - contrary to what the German government is insisting - German aid had not only been provided to the moderate insurgents. At the beginning of the year, the Ministry of Development, for example, announced that €15 million was placed at the disposal "of the evacuees from Aleppo City." The "regions of Aleppo, Hama and Idlib" were supposed to receive that money, it was claimed.[7] Mainly the Salafi jihadi-oriented East Aleppo residents had been evacuated to those regions named above - which are partially under the control of jihadis. In addition, according to information of the Left Party Parliamentarian Group, the development ministry had also financed a hospital in a city, where the Salafist jihadi militia Ahrar al Sham and the Al Qaeda subsidiary Jabhat Fatah al Sham were fighting for control.[8] German authorities have officially classified Ahrar al Sham and Jabhat Fatah al Sham (formerly Al Nusra) "terrorist organizations."[9] Germany's Ministry of Foreign Affairs has also provided support for the hospital in Ariha. The German Armed Forces and the Federal Police held a benefit concert in March, to raise money for that facility.[10]
Retreat for Al Qaeda
In the internal power struggles of the Salafist jihadis in Idlib Province, an al-Qaeda offshoot has prevailed, which - after a confusing multiple name changes - now calls itself Tahrir al-Sham. To help insurgents in their fight against the Assad government, Berlin has invested a great deal in that region. According to Brett McGurk, US Special Envoy for the Global Coalition to Counter ISIL, "Idlib Province is the largest al-Qaeda safe haven since 9/11."[11]
[1] DIHK: Syrien bietet "eigentlich Potenzial". www.dihk.de 23.08.2017.
[2] Lebanon Prepares for Syria's Post-war Construction Windfall. www.voanews.com 20.08.2017.
[3] Hannah Lucinda Smith: Assad invites friendly nations to rebuild Syria. www.thetimes.co.uk 17.08.2017.
[4] Neil Hauer: To the victors, the ruins: the challenges of Russia's reconstruction in Syria. www.opendemocracy.net 18.08.2017.
[5] See In Rebel Territory (IV).
[6] Rania Khalek: U.S. and EU Sanctions Are Punishing Ordinary Syrians and Crippling Aid Work, U.N. Report Reveals. theintercept.com 28.09.2016. See Forced to Flee (I) and Gezielt ausgehungert.
[7] Karin Leukefeld: Deutsche Hilfe für Syrien. Neues Deutschland 06.01.2017.
[8] Antwort der Bundesregierung auf die Kleine Anfrage der Abgeordneten Ulla Jelpke, Annette Groth, Heike Hänsel, weiterer Abgeordneter und der Fraktion Die Linke. Deutscher Bundestag, Drucksache 18/12280 vom 09.05.2017.
[9] See Steinmeier und das Oberlandesgericht and Terrorunterstützer.
[10] Antwort der Bundesregierung auf die Kleine Anfrage der Abgeordneten Ulla Jelpke, Annette Groth, Heike Hänsel, weiterer Abgeordneter und der Fraktion Die Linke. Deutscher Bundestag, Drucksache 18/12280 vom 09.05.2017.
[11] Aron Lund: New order on the border: Can foreign aid get past Syria's jihadis? www.irinnews.org 15.08.2017. See Das Al Qaida-Emirat.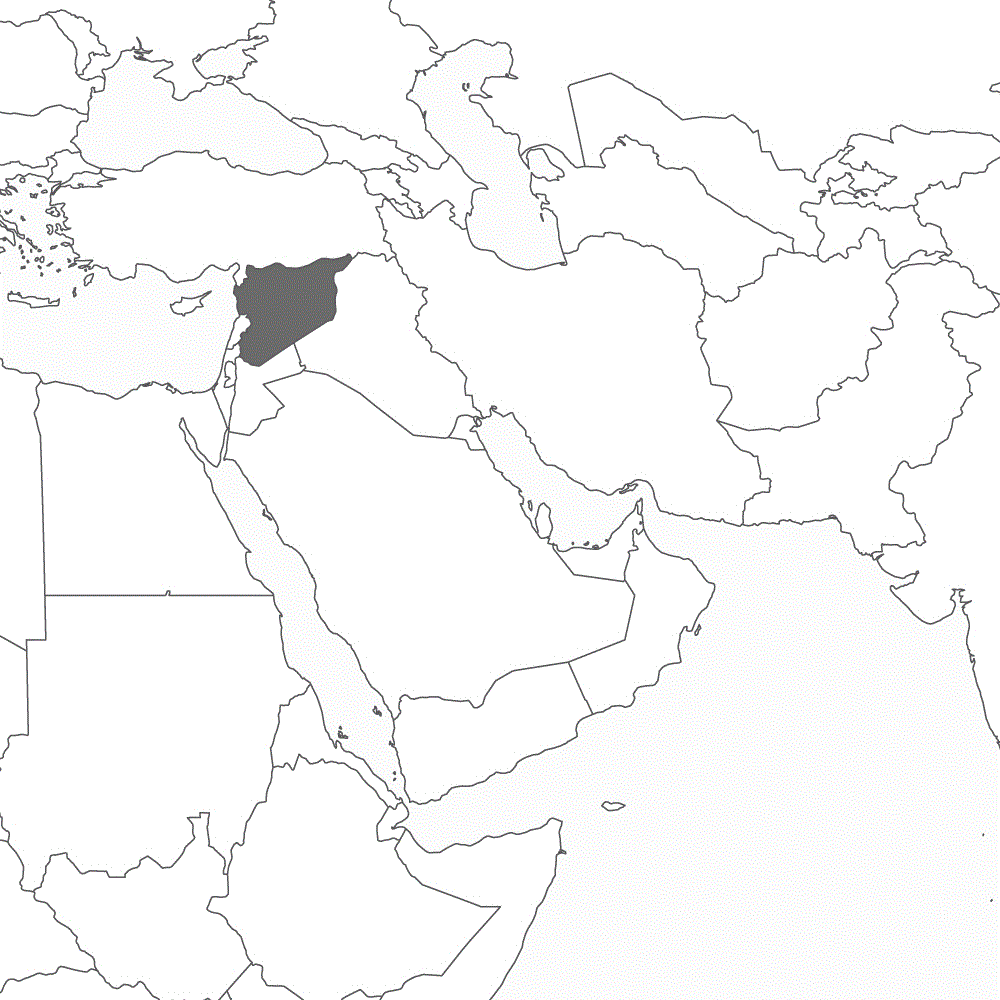 ---