Using Double Talk (II)
BERLIN/BEIJING | |
BERLIN/BEIJING (Own report) - On the occasion of the German chancellor's visit to China, Berlin's China experts are predicting tangible "turbulences" in German-Chinese relations. Chancellor Merkel is, above all, using her visit to the People's Republic to seek new business opportunities for German industry. However, growing tensions between the USA and China could soon be expected, according to a recent statement by the director of Berlin's Mercator Institute for China Studies. Germany and the EU will have to more clearly choose sides than has previously been the case. Government advisors are also proposing that relationships in the field of security policy with member countries of the Association of Southeast Asian Nations (ASEAN) be enhanced. This would strengthen the German-EU position in China's direct vicinity and could possibly be combined with cautious naval expeditions. Comprehensive arms deliveries are flanking these plans for a closer military cooperation. Three East and Southeast Asian countries are among the top-ten customers of German military hardware. They are among those countries, Washington is seeking to pit against China.
Turbulences
German experts on China are anticipating rising tensions between the United States and the People's Republic of China, and are predicting that Germany will "have to choose sides" in this dispute. At the time the German chancellor is seeking new business deals for German industry in Chengdu and Beijing, the Director of Berlin's Mercator Institute for China Studies, Sebastian Heilmann, published an analysis, in which he expressed his skepticism. Relations between Berlin and Beijing will soon be "much more conflict-prone" than "in the past 'golden decade' of German-Chinese cooperation," while "Chinese-US rivalry for the leading role in East and Southeast Asia" will clearly be exacerbated, predicts Heilman in an article published by a leading German daily. As can clearly be seen in his article, the author expects Berlin to take the side of the USA. "We should adjust to turbulences in our relations with China."[1]
A Security Policy Component
At the same time, government advisors are proposing that German-EU activities in Southeast Asia be enhanced. This is also relevant for the relations to the People's Republic of China, since, in its efforts to strategically encircle China, the USA is also seeking closer cooperation with the Association of Southeast Asian nations (ASEAN) member countries.[2] As the German Institute for International and Security Affairs (SWP) writes, EU relations to ASEAN are exceptionally close: With a trade volume of US $223.6 billion in 2013, ASEAN is the third largest commercial partner following China and Japan. Moreover, "with an investment volume from 2010 to 2012 of ca. 71 billion Euros ... it is the largest investor in the ASEAN region." To complement this "enormous economic engagement," a "security policy component" to enhance relations, has been missing for a long time. Even though in their 2007 "Nuremberg Declaration," ASEAN and the EU had agreed to enhance their security policy consultation (under the German EU-Presidency), only since 2012 have concrete steps been taken. According to the SWP, Berlin and Brussels can count on Washington's approval for the expansion of security policy activities in the ASEAN region. "The USA is expecting sustainable support for its Asia policy initiatives through a stronger EU engagement."[3]
Friendly Visits
To also initiate military policy contacts, the SWP carefully focuses on naval expeditions. Catherine Ashton, the EU's High Representative for Foreign Affairs and Security Policy, emphasized that the EU could point to the naval missions off the Horn of Africa, as an example of a "perfect cooperation" with Asian naval units, including Chinese. The combination of military and economic measures within the framework of EU interventions, would make the EU "into a unique global partner for Asia in the domain of security." SWP considers that Ashton's attempts to initiate foreign and military policy cooperation, look promising. Even though the ASEAN members are very attached to their national sovereignty and are adverse to foreign interference, it is still conceivable "that ships of single EU countries could be sent into the South China Sea, to pay the riparian countries friendly visits."[4]
Arms Exports
The efforts to initiate a sort of long-term cooperation in military policy, in spite of Southeast Asian sensitivities, are being flanked by large-scale arms exports to ASEAN nations. This was confirmed in the German government's most recent Arms Export Report, published in May. Among the Top-10 customers of German war material in 2013, the report lists three countries of East and Southeast Asia. The German government has authorized the shipment of tanks, fire control systems, communications equipment and similar material to Indonesia, valued at 300 million Euros. Singapore was authorized shipments of more than 200 million Euros in tanks and naval equipment, South Korea bought more than 200 million Euros worth of equipment - including tank spare parts and aerial defense systems. For years, Southeast Asian countries have been among Germany's most important customers of military equipment. (german-foreign-policy.com reported.[5]) Berlin is furnishing arms to those countries, Washington is seeking to pit against China, and with which the EU (albeit more slowly and carefully) is seeking to establish relations in military policy. The contacts - which are not a problem, as long as Berlin can maintain its close economic cooperation with China - should become advantageous, if the confrontation becomes more exacerbated between Washington and Beijing and Berlin and the EU can exercise influence in the region via its contacts to ASEAN.
Smash China
In fact while the chancellor was preparing new business deals and sharing amities with her hosts in Beijing, Berlin had long since had its eye on serious confrontation scenarios. For years, experts have been speaking of a western "ring of fire around China."[6] They do not rule out the possibility that the conflicts over the islands in Eastern and Southeastern Asia could escalate.[7] A speech given in 2012 by the exile Chinese writer, Liao Yiwu exemplarily gives an indication of the potential for escalation. That year, Liao, who is politically and financially supported by the German Foreign Ministry, was awarded the Peace Prize of the German Book Trade. In his acceptance speech, he explained that China is a "gigantic heap of garbage" and a "dictatorial ... empire," with "many regions and peoples forcibly chained to one another;" it should be "smashed." For his slander of China and his appeal for China to be smashed, Liao received a very hardy round of applause from his audience, which included German President Joachim Gauck.[8]
Additional reports and background material on the theme of German policy toward China can be found here: A Ring of Fire around China, Maritime Arms Race, Smash China (II), A Ring of Fire Around China (II), China's Lifelines (I), Zones of Future Conflicts, The Thucydides Trap and Germany in the Island Dispute.
[1] Sebastian Heilmann: Chinesische Erschütterungen. Frankfurter Allgemeine Zeitung 04.07.2014.
[2] ASEAN gehören Brunei Darussalam, Indonesien, Kambodscha, Laos, Malaysia, Myanmar, die Philippinen, Singapur, Thailand und Vietnam an.
[3], [4] Gerhard Will: Tough Crossing: Europa und die Konflikte in der Südchinesischen See. SWP-Studien S 10, Juni 2014.
[5] See The Purpose of Arms Exports and Panzer für Südostasien.
[6] See A Ring of Fire around China and A Ring of Fire Around China (II).
[7] See The Thucydides Trap and Germany in the Island Dispute.
[8] See Smash China (II).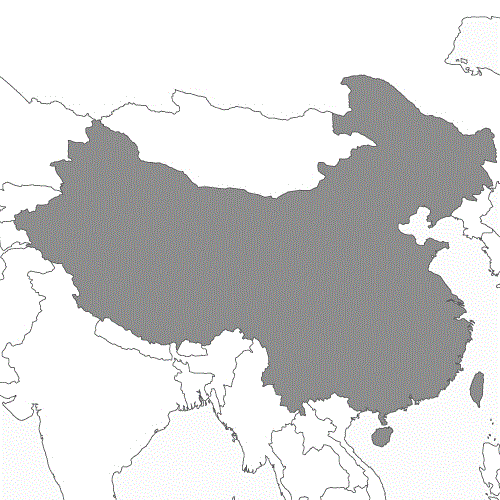 ---